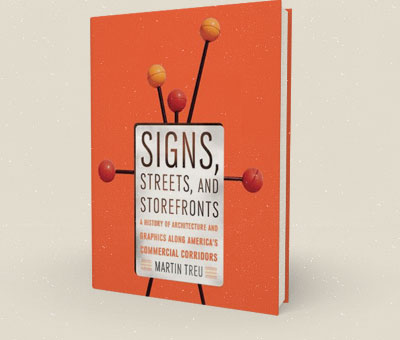 Buy Now
Signs, Streets, and Storefronts
A History of Architecture and Graphics along America's Commercial Corridors

igns, Streets, and Storefronts addresses more than 200 years of signs and place-marking along America's commercial corridors. From small-town squares to Broadway, State Street, and Wilshire Boulevard, Martin Treu follows design developments into the present and explores issues of historic preservation.
Treu considers "common" architecture and its place-defining business signs as well as influential high-style design examples by taste-making leaders. Combining advertising and architectural history, the book presents a full picture of the commercial landscape, including design adaptations made for motorists and the migration from Main Street to suburbia.
The dynamic between individual businesses and the common good has a major effect on the appearance of our country's Main Streets. Several forces are at work: technological advances, design imagination and the media, corporate propaganda, customer needs, and municipal mandates. Present-day controls have often led to a denuding of traditional commercial corridors. Such reform, Treu argues, has suppressed originality and radically cleared away years of accumulated history based on the taste of a single generation.
A must-read for city planners, town councils, architects, sign designers, concerned citizens, and anyone who cares about the appearance and vitality of America's commercial streets, this heavily illustrated book is equally appealing to armchair historians, small-town enthusiasts, and lovers of Americana.
Martin Treu is an architect and environmental graphic designer. He is creative director of Treu Design.
Reviews
"Knee-jerk reactions against signs have ruled for too long. Martin Treu's excellent book offers the overdue antidote: solid historical facts and insightful urban analysis that reveal the important role of signs in shaping our buildings for the better. You'll look at cities differently after reading this book."
— Alan Hess, author of Googie Redux: Ultramodern Roadside Architecture
"A compelling history and study of what makes American architecture unique: entice, appeal and sell! Treu's book contains great research about commercial attraction and buildings both individually and the urban and suburban impact from the 1700s to today. A must read."
— Richard Guy Wilson, Commonwealth Professor of Architectural History, University of Virginia